Preproduction computer-generated image shown throughout. Starting spring 2022.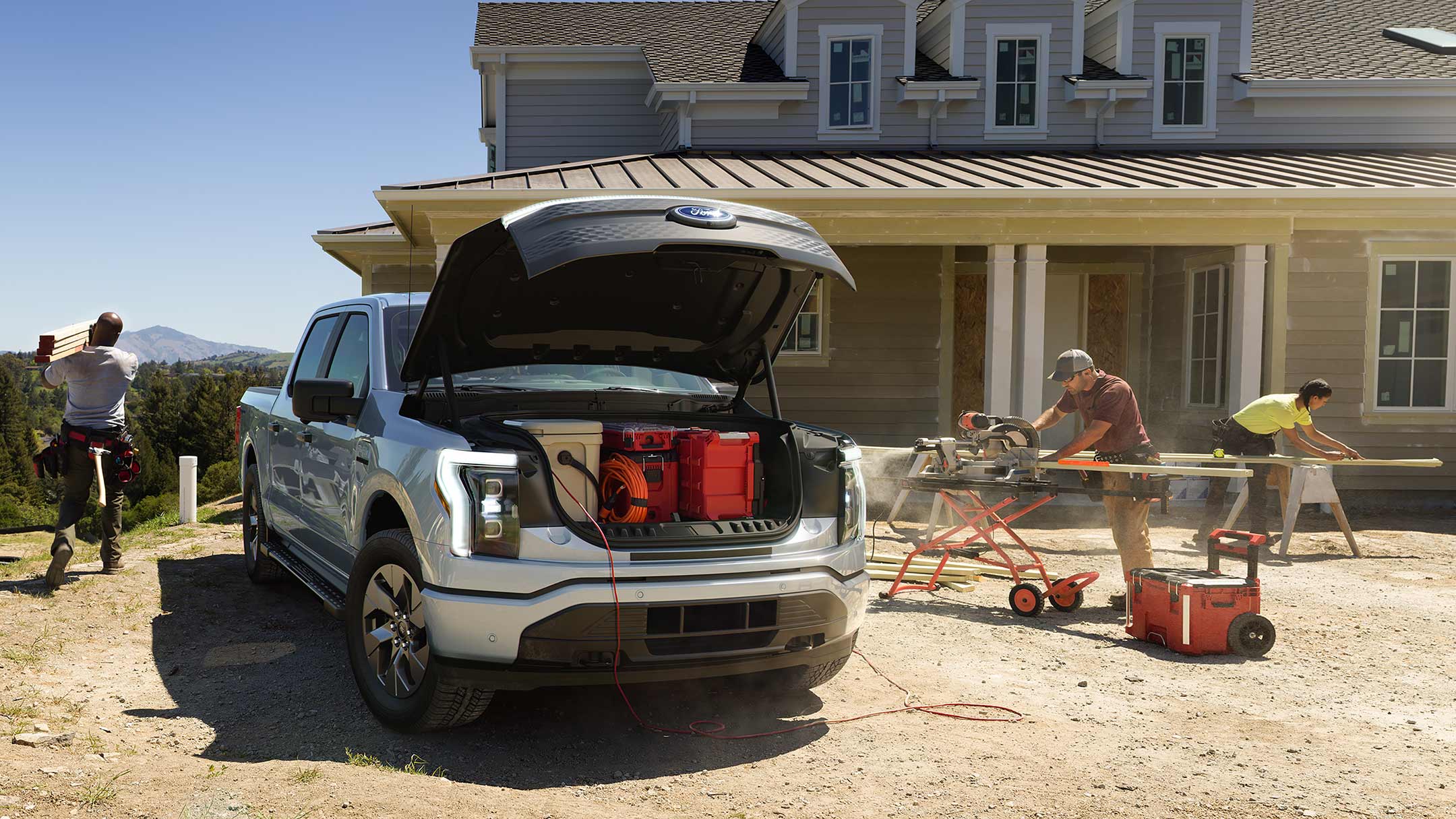 Online Reservation FAQs
What is a reservation?
A reservation lets you configure and be among the first to order a new all electric F-150 Lightning from Ford with a refundable Reservation Deposit. It is not an actual order and does not guarantee delivery.
What steps are required to complete my reservation?
Go online and select reserve now, create a Ford Account, select your preferred Ford EV Certified dealer and enter your credit/debit card details and address. A confirmation receipt will be sent to the email address you provide. *
What is a Ford Account and why do I need one?
A Ford Account lets you sign in to the Ford website to save and manage your personal and reservation information. You need to create a Ford Account to reserve your all electric F-150 Lightning. Reservations can also be tracked in your Ford Account at owner.ford.com/. *
Can I select any Ford Dealer?
To find the closest Ford EV Certified Dealer, go to the Ford.com and select 'Locate a Dealer'; insert zip code or type in Dealer name; select 'Advance Search'; check EV Certified.This will ensure EV Certified Ford Dealers are presented in your search results.
Can I make changes to my reservation?
Customers may reach out to Ford Customer Support at (800) 334-4375 for assistance in updating their dealer selection. In changing dealers, there will be no impact to a customer's reservation ID, vehicle details, or the associated timestamp.Is the $100 reservation fee refundable?
Yes, reservation fees are refunded with reservation cancellation. Allow seven to 10 business days for the reservation deposit to be credited to your original form of payment.
Will you share my reservation information with my dealer?
Your reservation information will be shared with the dealer you select at the time of reservation. Please see our privacy policy at ford.com/help/privacy for additional information.*
Can I cancel my reservation?
Yes. You can cancel your reservation at any time and receive a full refund.* You can do this in your account at ford.com. If for some reason you can't process the cancellation online, you can contact a Ford Customer Experience Representative at 800-392-3673 (Ford U.S.). After canceling, allow seven to 10 business days for the reservation deposit to be credited to your original form of payment. Once you progress from a reservation to an order with a dealer, however, cancellation requests would be at that dealer's discretion.
When can I order my vehicle?
You will be notified prior to when the  all electric F-150 Lightning ordering windows open to finalize and confirm your selection and agree on pricing with your dealer.
What is an online order?
An order sends your vehicle configuration to your selected Dealer who will then process your order request.By submitting an order and completing the order process, you are not purchasing a vehicle. Ordering does not guarantee you vehicle delivery. Your order does not guarantee a set-price for the vehicle.
Am I ordering this vehicle directly from Ford?
The all electric F-150 Lightning order is being placed on your behalf by your selected Ford EV Certified Dealer.
Can I call or visit my Dealer to place my order?
Yes, your Ford EV Certified Dealer can assist with submitting and processing your all electric F-150 Lightning order.
What happens to the reservation deposit once I order?
See your dealer for details. The reservation deposit should be credited or refunded by your dealer as part of the vehicle purchase process.*
Am I buying this vehicle directly from Ford?
No. The purchase agreement will be between you and the dealer, not you and Ford.
When will I take delivery of my vehicle?
You will be able to order your all-electric F-150 later this year. Production and deliveries will begin Spring 2022. Delivery times may vary based on vehicle model and configuration selected, residency and demand. Once your vehicle is scheduled, you will receive further notification.
How many reservations can I make and can I transfer my reservation?
Up to four reservations per account. Your reservation number is assigned to you and cannot be transferred.*
What price will I pay for my F150 Lightning?
The pricing for your vehicle will be finalized at time of order.  The entry model starts at $39,974 MSRP(commercial-oriented). More-equipped mid-series (XLT) starts at $52,974 MSRP, offering additional comfort and technology. MSRP starting at $39,974 up to around $90,474.1 This reservation does not guarantee you a specific price point.
DISCLAIMER: *By completing the Reservation Process, you are not ordering or purchasing a vehicle. Participation in the Program does not guarantee you vehicle delivery. Your Reservation does not guarantee a set price for the Vehicle.
All Electric. All F-150.
America's best-selling truck for 44 years, the F-Series, is now bringing us into the future with the F-150 Lightning. This gas-free full-size pickup offers more purposeful technology, an elevated driving experience, and trusted Built Ford Tough capability. The F-150 Lightning is a dynamic pickup offering an inspired selection of connected and intelligent options with over-the-air Software Updates to ensure your truck can get even better over time. Ford's new electric pickup claims up to 300 miles of range, 563 horsepower, a 10,000-pound towing capacity, and 775 lb.-ft. of torque – the most torque of any F-150 ever. This exciting drive looks similar to its gas-powered counterpart but should reach 60 mph quicker than any other F-series available today. Will the F-150 Lightning have what it takes to convince more people to switch to an electric vehicle? We think so!
2022 Ford F-150 Lightning Advanced Technology - Guiding You into the Future
For the F-150 Lightning, Ford went beyond simply creating an electric truck. They took the most popular version of their F-series, the F-150, and loaded it with all the benefits that zero-emissions propulsion offers – nearly instantaneous torque, Ford intelligent Backup Power, connected services, and an intelligent range, just to name a few. The Lightning is the smartest, most innovative F-150 that Ford has ever built.The advanced technology that can be found in the F-150 Lightning includes over-the-air Software Updates, robust charging solutions, and FordPassTM Integration that not only allows remote access to your truck and communication with the Ford Connected Charge Station and the Ford Charge Station Pro at home for seamless access to public charging.
If you're ready to move into the new age of car tech, come see us at Bill Estes Ford Brownsburg in Brownsburg, IN.
2022 Ford F-150 Lightning TBD – Towing and Load capacity
Hauling technology pro trailer hitch assist, onboard scales, smart hitch and more is put through the paces tested its durability through the toughest real-world conditions.Targeted 10,000 lbs of maximum towing capacity. Targeted 2,000 lbs of maximum payload capacity powerful acceleration0-60 in 4.5 secondsOff-road capabilities two motors that power all four wheels, metal skid plates for underbody protection, and advanced lithium-ion battery packMega Power Trunk features 14.1 cubic feet of cargo space, enough room for 2 golf bags, 400 lbs of payload capacity.
2022 Ford F-150 Lightning TBD – Impressive Range and Charging Solutions
backup power/charging, Two versions, baseline (230 miles), extended battery option (300 miles), Ford Intelligent Backup Power use your truck as a backup power source to your home during a power outage. Triggered automatically based on customer preference.Provide full-home power for up to three days
2022 Ford F-150 Lightning Available at Bill Estes Ford Brownsburg in Brownsburg