Preproduction computer-generated image shown throughout. Starting spring 2022.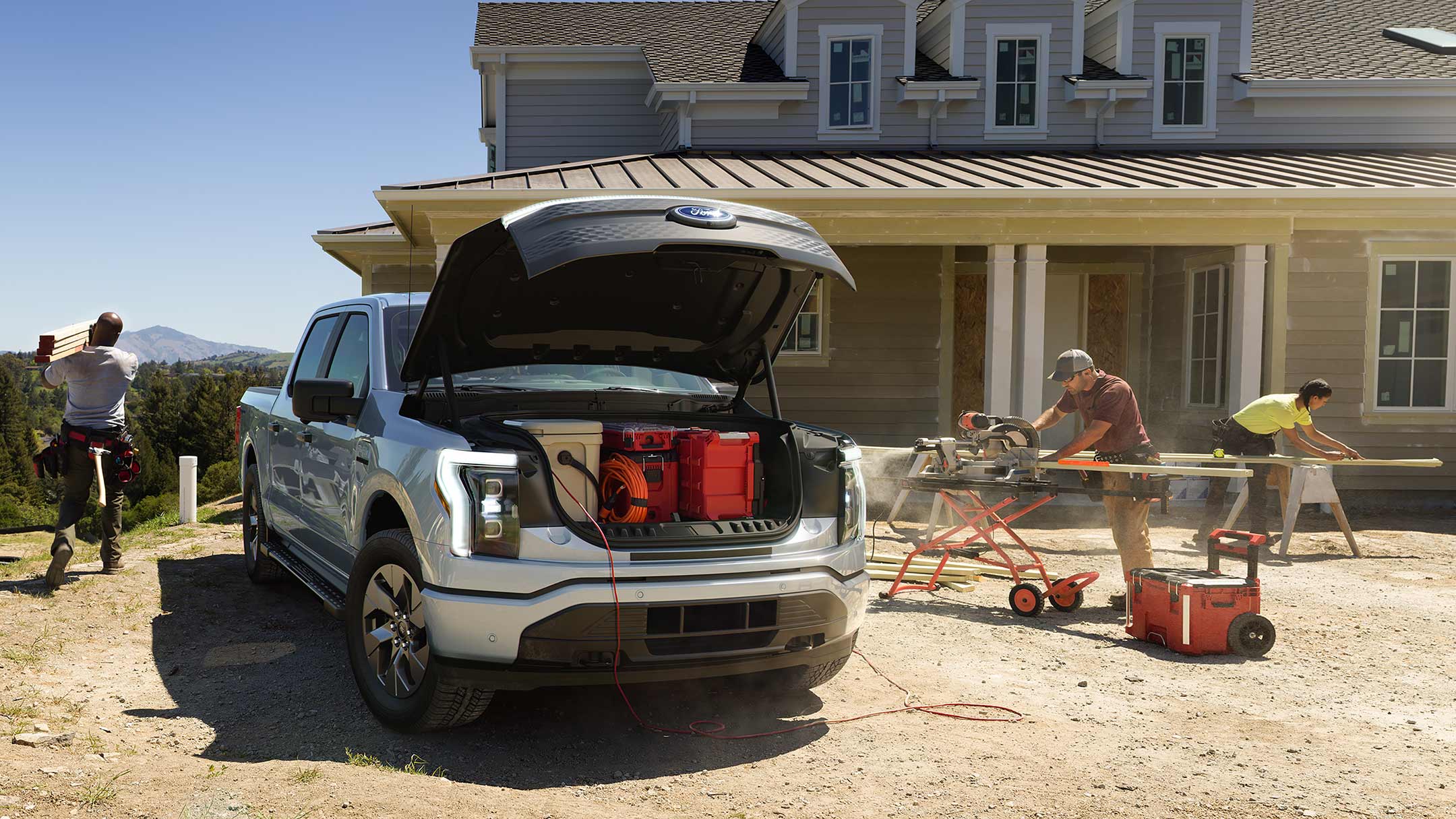 All Electric. All F-150.
America's best-selling truck for 44 years, the F-Series, is now bringing us into the future with the F-150 Lightning. This gas-free full-size pickup offers more purposeful technology, an elevated driving experience, and trusted Built Ford Tough capability. The F-150 Lightning is a dynamic pickup offering an inspired selection of connected and intelligent options with over-the-air Software Updates to ensure your truck can get even better over time. Ford's new electric pickup claims up to 300 miles of range, 563 horsepower, a 10,000-pound towing capacity, and 775 lb.-ft. of torque – the most torque of any F-150 ever. This exciting drive looks similar to its gas-powered counterpart but should reach 60 mph quicker than any other F-series available today. Will the F-150 Lightning have what it takes to convince more people to switch to an electric vehicle? We think so!
2022 Ford F-150 Lightning Advanced Technology - Guiding You into the Future
For the F-150 Lightning, Ford went beyond simply creating an electric truck. They took the most popular version of their F-series, the F-150, and loaded it with all the benefits that zero-emissions propulsion offers – nearly instantaneous torque, Ford intelligent Backup Power, connected services, and an intelligent range, just to name a few. The Lightning is the smartest, most innovative F-150 that Ford has ever built.The advanced technology that can be found in the F-150 Lightning includes over-the-air Software Updates, robust charging solutions, and FordPassTM Integration that not only allows remote access to your truck and communication with the Ford Connected Charge Station and the Ford Charge Station Pro at home for seamless access to public charging.
If you're ready to move into the new age of car tech, come see us at Bill Estes Ford Brownsburg in Brownsburg, IN.
2022 Ford F-150 Lightning TBD – Towing and Load capacity
Hauling technology pro trailer hitch assist, onboard scales, smart hitch and more is put through the paces tested its durability through the toughest real-world conditions.Targeted 10,000 lbs of maximum towing capacity. Targeted 2,000 lbs of maximum payload capacity powerful acceleration0-60 in 4.5 secondsOff-road capabilities two motors that power all four wheels, metal skid plates for underbody protection, and advanced lithium-ion battery packMega Power Trunk features 14.1 cubic feet of cargo space, enough room for 2 golf bags, 400 lbs of payload capacity.
2022 Ford F-150 Lightning TBD – Impressive Range and Charging Solutions
backup power/charging, Two versions, baseline (230 miles), extended battery option (300 miles), Ford Intelligent Backup Power use your truck as a backup power source to your home during a power outage. Triggered automatically based on customer preference.Provide full-home power for up to three days
2022 Ford F-150 Lightning Available at Bill Estes Ford Brownsburg in Brownsburg